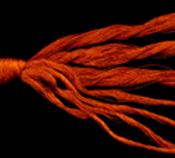 Kumihimo Thread Bundles
Early braids were made using unspun or hand-twisted silk, which lacked the definition that we get from 3-ply high-twist silk. The silk is reeled straight from the cocoon, 20 or more filaments making one very fine thread. This photo is of a bundle of silk. It consists of four ropes of approximately 672 threads that are pre-cut at 105" (2.7 m) long for braiding; they in turn are further divided into 4 sections. The total number of sections in a bundle is 16. The silk is packaged in Japan in this manner so that braiders can easily make obijime (oh-bee-gee-meh) which are the traditional belts, that tie around the obi. The fourth rope, at the bottom of the photo, has been further broken down into four sections which is how BraidersHand thread is packaged; one rope divided into four sections.
One package of silk has approximately 42 fine threads in each of the four sections for a total of 168 threads. The thread size is 150/3 which is about the same size as 00 silk thread available on small spools in the USA. Imposter has approximately 39 threads in each section for a total of 156 threads. The metallics have approximately 31 threads in each section for a total of 124 threads. A finished braid is usually one-half the length of the threads before braiding. A package of threads if folded in half makes 8 sections, which will be approximately 52" long, the resulting braid will be approximately 26" long.
See our BraidersHand Tips page for information on handling the kumihimo threads and for directions for making a drawstring for your counter weight bag or use it for a small treasure bag.
Fine Silk
Fine Silk is offered in 44 colors - $11.00 per package. There is no shade card for Fine Silk, however, if you have Premium Silk or Imposter shade cards, you will have samples that match many of the Fine Silk Colors. Click here to see the shade cards. We are happy to describe colors: call 866-821-4613 or email braidershand@gmail.com.
Premium Silk
Premium Silk has a large selection of 80 colors - $12.25 per package.
Imposter
Imposter is our synthetic thread that replaces the discontinued Biron. It it comes in 67 colors - $6.00 per package.
Metallics
Our metallics are non-tarnishing metal that is wrapped around a core. The Silver and Gold are solid color, Silvery and Bronze are multi-color. The Sparkle Metallic is silk thread with metallic sprinkled on the top.
#24 Silver, #25 Gold - $7.50 per package

#45 Silvery, #46 Bronze - $9.50 per package

Sparkle, #1 - #8 - $14.50 per package
Not sure which color to choose? Try our Mixed Metallics Package, one section (39 threads in each section) each of Silver, Gold, Silvery, Bronze, Metallic Sparkle - $15.50 per package.
Bamboo Yarn
Please note that UKI is no longer making this lustrous bamboo yarn. We are down to just 1 color: RedHot (BY2012) on our Mini Cones! Each cone holds 440 yards/402m and weighs 6.7oz/189g. The size of the yarn is about the same as 3/2 cotton (5.24/4). $17.75 per cone.